For those using WordPress, the theme you choose will set the overall mood of your blog. If you want people to enjoy your food blog, you need to make sure you choose a good WordPress theme.
Premium Themes over Free Themes
While premium themes will cost you a little money, they are often worth every penny. They provide better security, fewer compatibility issues with plugins, and offer more customization options for creating a unique site.
Search ThemeForest for Premium Themes
Themeforest has a large database of premium WordPress themes. The themes are divided into categories, making it easy to find the right theme for your food blog.
Here are a few things you should look for when choosing a premium WordPress theme:
Find a responsive theme that works well on all browsers and devices.
Ensure your premium theme is regularly updated and supports the latest version of WordPress.
Read reviews and find out if the creators offer customer support.
The Top 5 Premium WordPress Themes for Food Blogs
To make your search a little quicker, I have found the top 5 premium WordPress themes for creating a food blog. Each theme has its own benefits and features. Look over all your options before making a choice.

1. Foodie WordPress Theme
2. iCook Premium Theme
3. Dining Around Tumblr WordPress Theme
4. Food Recipes
5. Food A Delicious WordPress Theme

 
Foodie – A Whimsical Premium WordPress Theme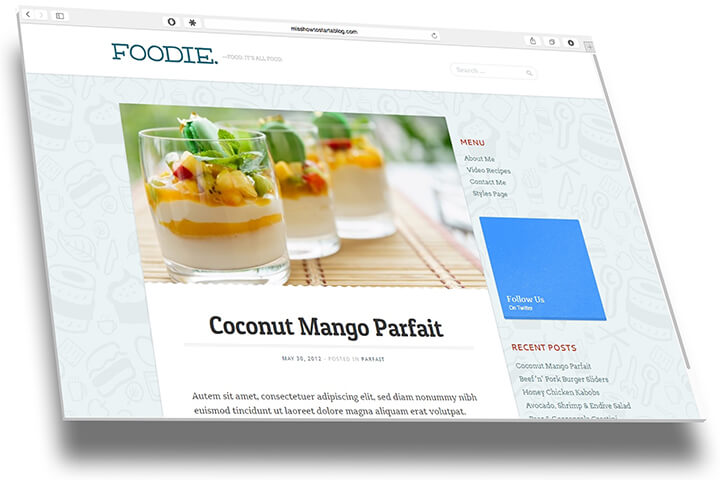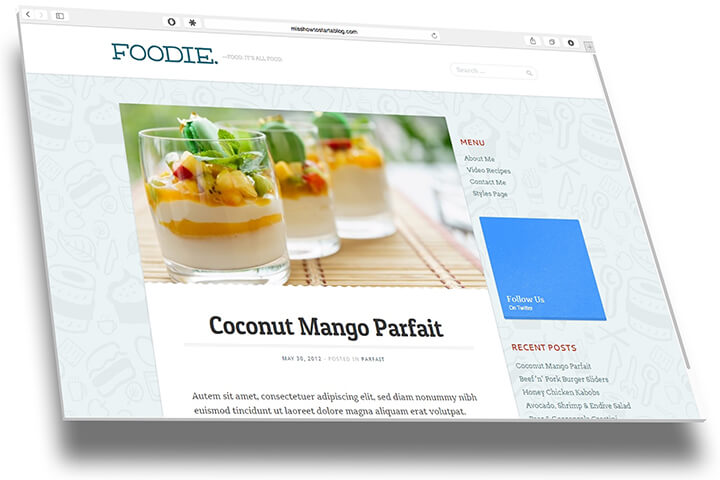 Foodie offers the most unique features that are specifically designed for blogging about food. Check out some of the main advantages of using the Foodie premium theme.
Price: $79
Advantages: Foodie focuses on sharing recipes; though, this doesn't mean that all your postings have to be recipes. It also includes a recipe rating system, allowing visitors to rate recipes.
Overall: For the serious food blogger, Foodie offers the most streamlined site. Your visitors will enjoy the easy navigation and scrolling blog rolls.
Buy or read more information here >>
iCook – Food Blog WordPress Theme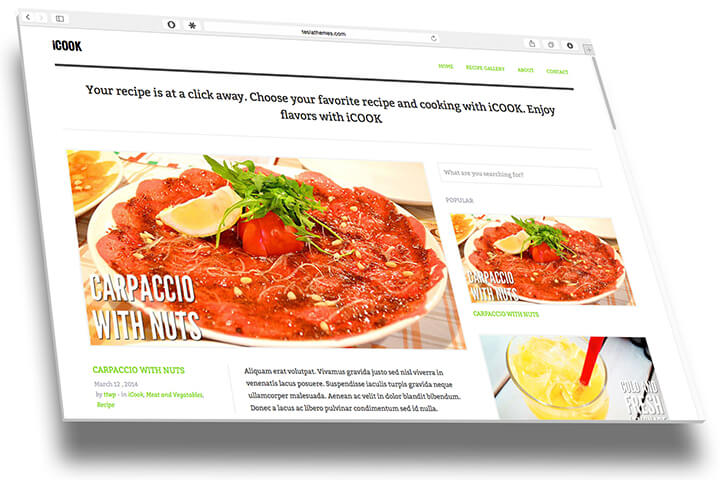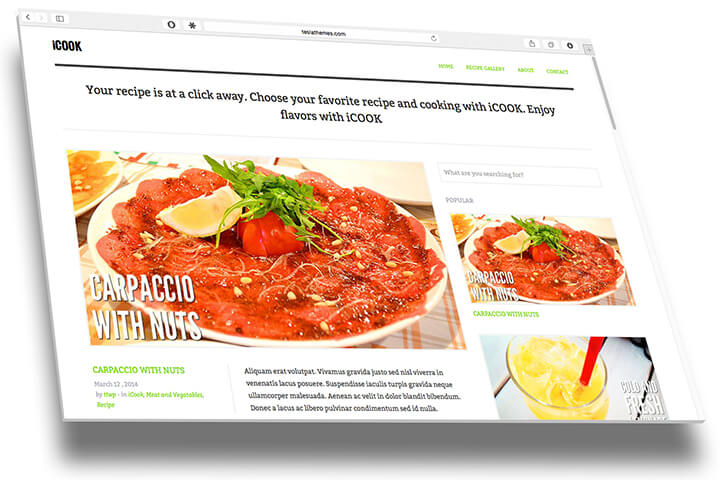 iCook is a solid theme with plenty of customization options. The makers of iCook have focused on a traditional magazine style layout for this theme.
Price: $43
Advantages: iCook includes a recipe gallery that allows visitors to quickly find recipes based on their image. This theme also has various sidebar and widget options so that you can make your food blog unique.
Overall: Overall, iCook is a well-designed WordPress theme with a responsive design. This is a great theme for those that want a more traditional website look for their food blog.
Buy or read more information here >>
Dining Around Tumblr Food Blog Theme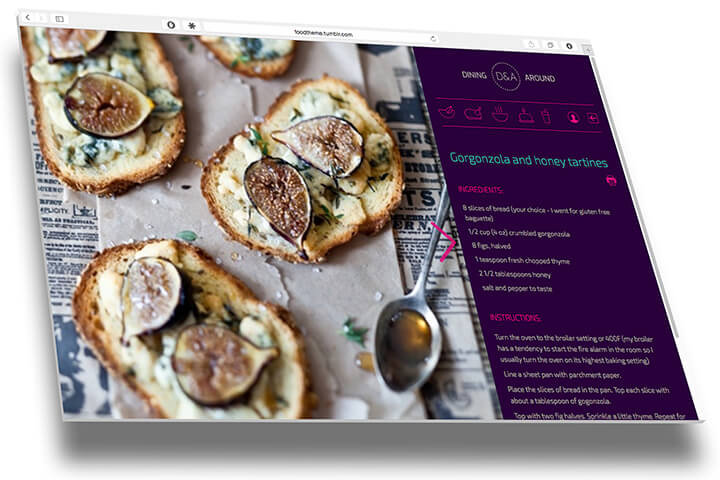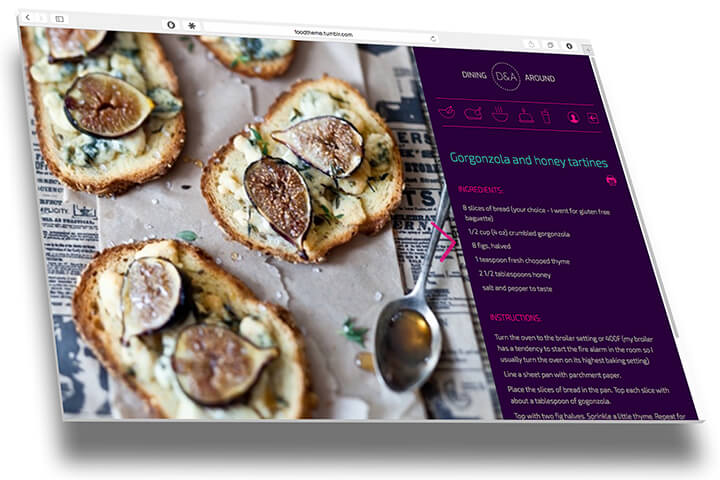 Dining Around gives you a Tumblr style layout. Visitors can scroll through a long list of your most recent food recipes and blog posts.
Price: $32
Advantages: Dining Around is lightweight and responsive. There are 21 different customization settings so that you can alter the appearance of this theme to suite your style.
Overall: Dining Around is a good middle of the road option. It is not very expensive and gives you a good starting platform for building a large following.
Buy or read more information here >>
Food Recipes – Food Website and Blog Template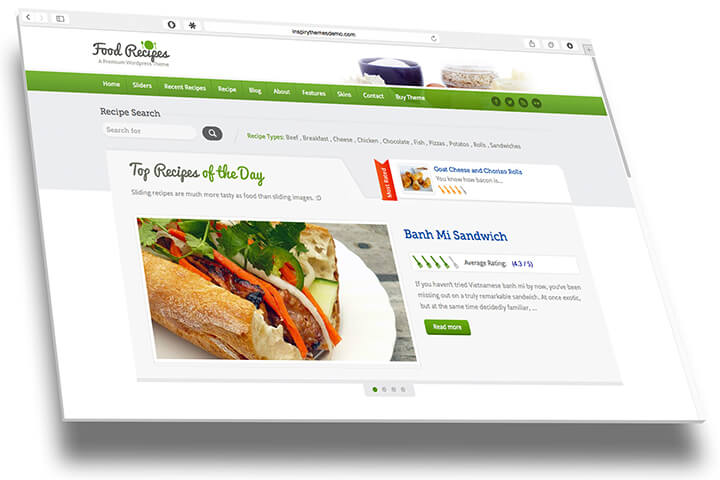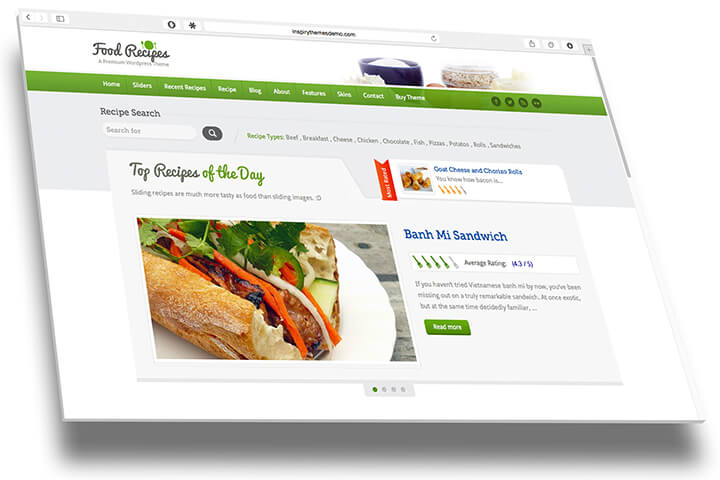 Food Recipes is a lightweight responsive WordPress theme that does not include a lot of customization options.
Price: $16
Advantages: The main advantage of Food Recipes is that it is the most affordable premium theme in this list. It has a slider that can be placed on the homepage and provides a standard blog layout with a sidebar on either the left or right side of the page.
Overall: If you are working on a budget, then give this premium theme a try. It provides everything you need to get started.
Buy or read more information here >>
Food – A Delicious WordPress Food Blog Theme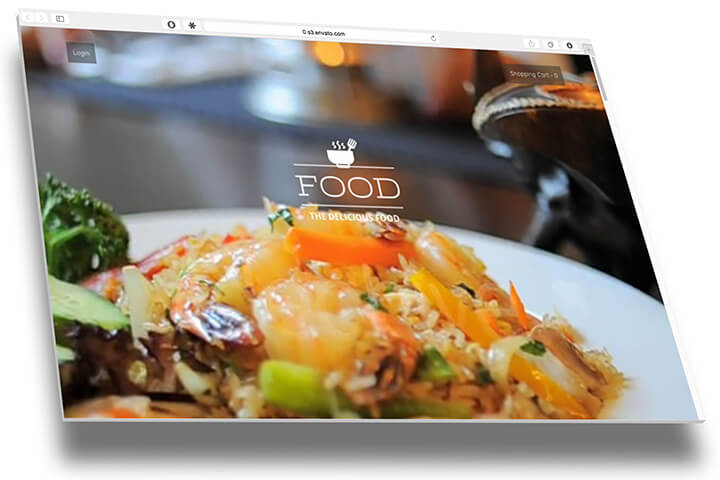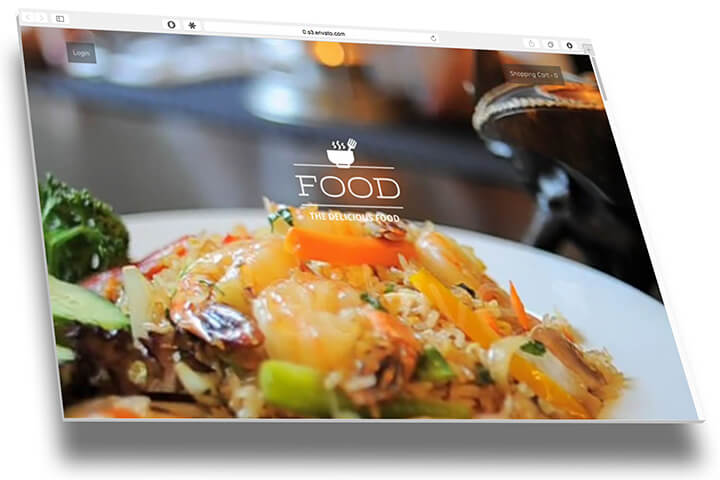 Food is a nice alternative to the previously mentioned themes. It has a refreshing minimalist layout that lets you focus on gorgeous photos of your food:
Price: $58
Advantages: With this theme, anyone can create a professional looking food blog. The creators use the latest HTML 5 and CSS 3 when coding for a fast loading blog.
Overall: The price is reasonable and the theme is regularly updated. The customization options are limited, but this just makes it easier to focus on your content.
Buy or read more information here >>
---
Look At Your Competition
Even though you can create your own stunning food blog with any of these WordPress themes, you should still take a second to see what your competition is up to.
Read my posting on the Top Food Bloggers, to get a general idea of what other food blogs look like.
Create an Original Food Blog
Once you have your WordPress theme chosen, take your time going through the options and making changes. Create a site that reflects your point of view.
Take a look at my post: Spanish version
como-configurar-tu-blog/
como-empezar-un-blog-de-moda/
Why do you need to start a Blog
Have a Question?
Thanks for reading, if you have any questions, please leave me a message below. I'll get back to you as soon as possible.